Registration for Rising 9th Graders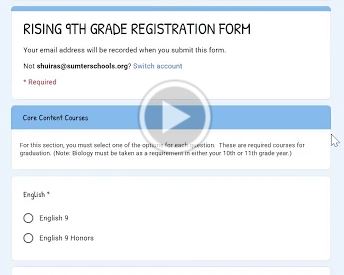 ---
Attention Rising 9th Graders!
Parents and students, please check the website and your students emails for information on registration for 9th grade. There is an informational video and the Google Doc has been sent to all 8th grade student's emails. If you have any questions please don't hesitate to reach out to the counselor at the 9th grade academy, Sam Huiras, at shuiras@sumterschools.org.
Please click the link below with your school issued email address. The deadline for this form is Friday, March 19, 2021.