SCMS Students Reading in Spanish!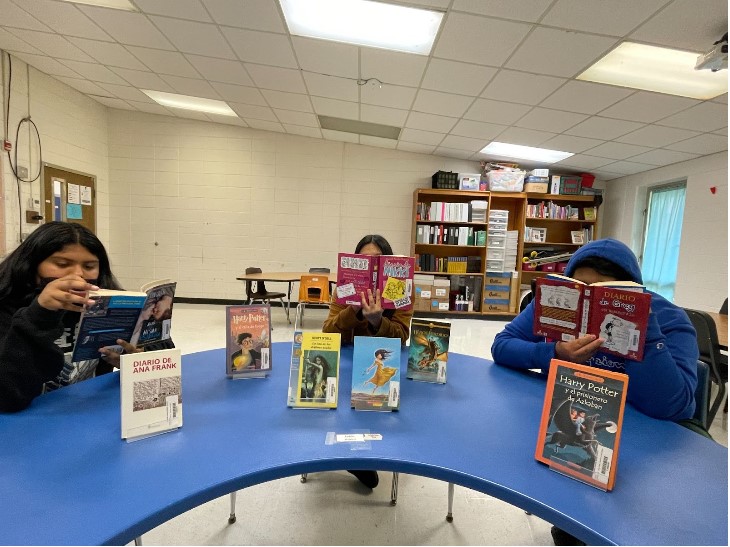 ---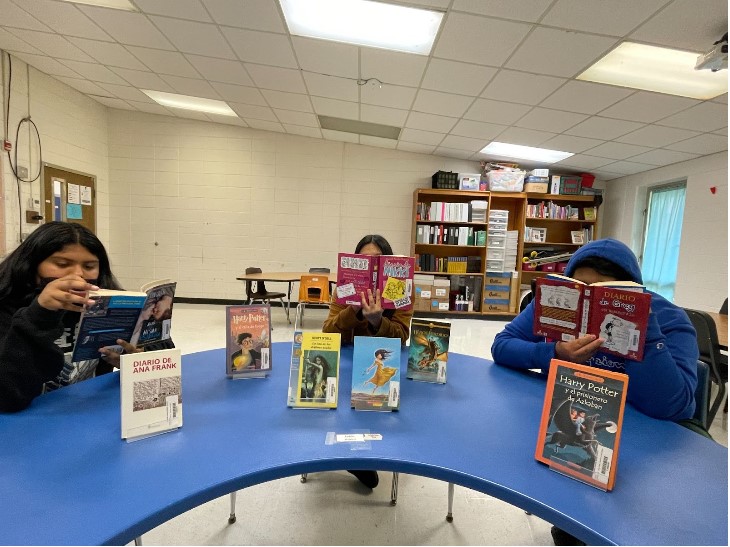 Sumter County Middle School ESOL Students Reading in Spanish!
Sumter County Middle School (SCMS) is proud to now offer a wider selection of library books written in Spanish. During the 2021-2022 school year, SCMS ESOL teacher Christina Walker and Media Specialist Kristan Price worked collaboratively to address the shortage of Spanish texts in the library collection.
"When students began using our library resources this fall, I noticed we only had 1 book in Spanish," says Price. "With the increasing ESOL population at SCMS, I knew building our collection in this area would be a priority. We now have 35 Spanish titles."
Walker and Price recognized early on that ESOL students were struggling with meeting Accelerated Reader goals. Students expressed the desire to read in their first language to increase understanding. In addition to adding Spanish titles, SCMS will offer ESOL students the English version as well. Currently, half of the Spanish titles are paired with the English version with plans to complete the sets moving forward. There are many benefits to building a collection to support students with a different first language.
"Having access to text in your first language as well as in English allows students to compare the language as they develop reading and writing skills," says Walker. "While our ESOL students will continue to perfect their skills in English, access to texts in their first language helps them develop transferable knowledge of plot structure, figurative language, and other important comprehension skills."
In addition to skill development, access to diverse texts promotes cultural diversity, increases a feeling of representation for all students, and supports literacy development for the entire family.
"I can read to my little sister now," says 8th grader Ritsy Garcia-Perez. "She doesn't speak English like me."
If you are interested in helping SCMS continue to develop its Spanish/English collection, please contact Christina Walker (cwalker@sumterschools.org) or Kristan Price (kprice@sumterschools.org).
Pictured L-R:
Sumter County Middle School (SCMS) ESOL students Ritsy Garcia-Perez, Angelina Gonzalez-Diaz, and Brian Gonzalez-Diaz enjoy new Spanish versions of popular books. The SCMS Media Center increased its Spanish inventory this year from 1 book to 35 books. Half of those books have an English version paired with it to promote bilingual literacy.